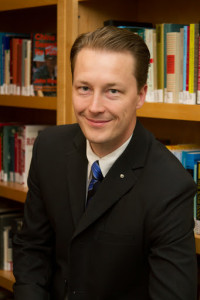 Hi there! I'm Per Bylund, Assistant Professor of Entrepreneurship and Records-Johnston Professor of Free Enterprise in the School of Entrepreneurship at Oklahoma State University. My research focuses on issues in entrepreneurship, strategic management, and organizational economics – especially where they overlap and intersect with regulation and policy issues.
I am an associate fellow of the Ratio Institute in Stockholm, Sweden, a research fellow at the McQuinn Center of Entrepreneurial Leadership, and an Associated Scholar with the Mises Institute as well as senior fellow at the Ludwig von Mises-institutet i Sverige.
My research aims to explain the market process of wealth-creation and economic development with a focus on organizations, institutions, entrepreneurship and management. I have several papers and a book on the theory of the firm, especially targeting and attempting to illuminate the economic function of the firm – both to the entrepreneur and as a means to explain the evolution of market structure. My research has been published in several scholarly journals, including the Journal of Business Venturing, Journal of Management Studies, Strategic Entrepreneurship Journal, Managerial and Decision Economics, Managerial Decision, the Journal of the History of Economic Thought, and the Quarterly Journal of Austrian Economics.
I have authored two books, both published in 2016: The Problem of Production: A New Theory of the Firm (Routledge) on the economic theory of organization and the firm; and The Seen, the Unseen, and the Unrealized: How Regulations Affect Our Everyday Lives (Lexington) that provides the reader with an introduction to economic reasoning to understand the market and regulation. I have also co-edited two volumes: The Next Generation of Austrian Economics: Essays in Honor of Joseph T. Salerno (Mises Institute, 2015) with David Howden; and Sådan är kapitalismen! (Frihetsfronten förlag) with Henrik Alexandersson. More information on these books is available on the Books page. I also edit a book series on Austrian economics published by Agenda Publishing.
I serve as an associate editor for the Journal of Entrepreneurship and Public Policy and on the editorial review boards of the Academy of Management Review, the Journal of Business Venturing, the Journal of Management Studies, the Strategic Entrepreneurship Journal, and the Molinari Review, and am a consulting editor for Cosmos+Taxis.
I regularly write columns for The Entrepreneur magazine; they are available to read at entrepreneur.com here. For a list of all my published columns, please see my Columns page.
Originally from Sweden, I live in Tulsa, Oklahoma, with my wife Susanne and our semi-spoiled Plott Hound Georgia.
Follow me on Twitter at @PerBylund.